8000lph 10tph 20tph 50tph automatic self cleaning filter reverse osmosis system
How ro works
Our standard reverse osmosis system takes city/well/river/lake/reclaimed water TDS less than 2000ppm as raw water, treaded through
sand filter,carbon filter,water softener(optional) and security filter as pre-treatment,then through high pressure pump to ro membrane.
The whole process can remove particles,colloid,organic impurities, smell,ordor,color bacterias and ions, which can make more than 97% desalination rate.
Thus making the impure/usless water to pure drinking/irrigating/washing water.
And make the best use of the water you have to the water you need.

Suitable for outside requirement:
1.
Raw wate
r can be well water,city water,river/lake water:TDS ≤ 2000 ppm
2. System desalination rate≥97%, recovery rate≥70%
3. Maximum working pressure: 1.5MPa
Main part brief introduction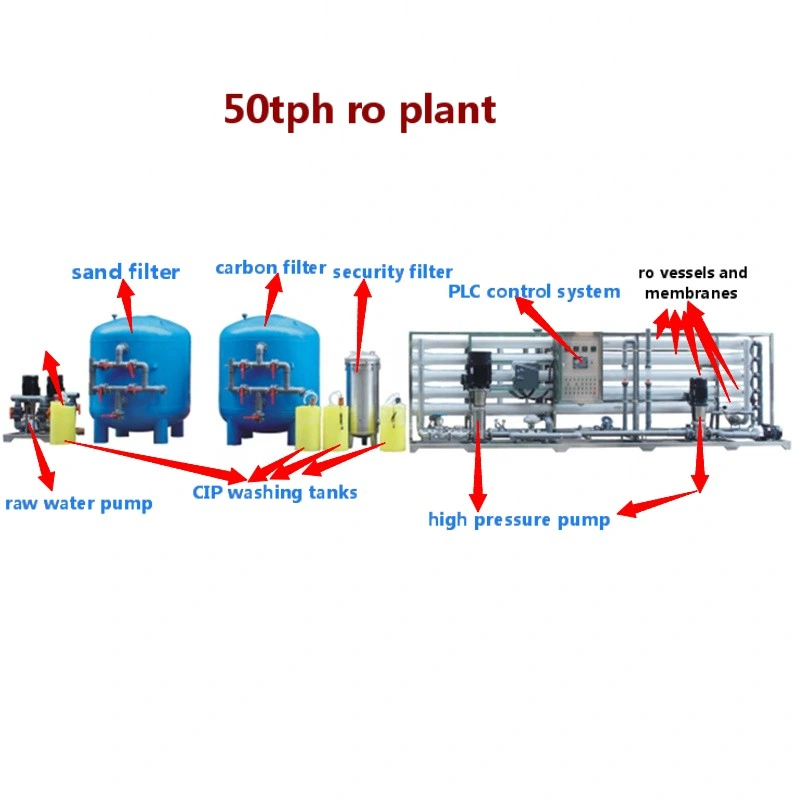 Item name
Barnd
Function
Raw water pump
CNP/GRUNDFOS/DANFOSS
provide pressure for the following steps-sand/carbon/security filters, and pump water from the raw water tank or well.
Sand filter
KAIYUAN
remove/obsorb the big particles, colloid, organic matters, suspendence in the water, we will offer one set for customers using for 2 years.
Carbon filter
KAIYUAN
remove/obsorb the ordors, smells, irons, residual chlorine,we will offer one set for customers using for 2 years
water softener (optional)
Na+ exchanging
KAIYUAN
Water softener is used to remove water hardness(Ca2+,Mg2+), to provide best water for domestic bathing /washing line.
security filter
KAIYUAN
remove colloid more than 5 micron,
we provide only one set for one one month for our customers.
high pressure pump
CNP
provide pressure for ro membrane
RO membranes
DOW/HYDRANANUTIC/VOTRON
we adopt the top international quality meembranes, which have the highest desalination rate, longest life span, lowest polluted in the using process
PLC system
SIEMENS
download the APP, and you can control the whole system anywhere as long as you have internet available
Output treated water usage:
1.For residential drinking,cooking water.
2.For commercial bottle pure drinking water.
3.For agricultural irrigating and drinking water.
4.Electric mental costing industry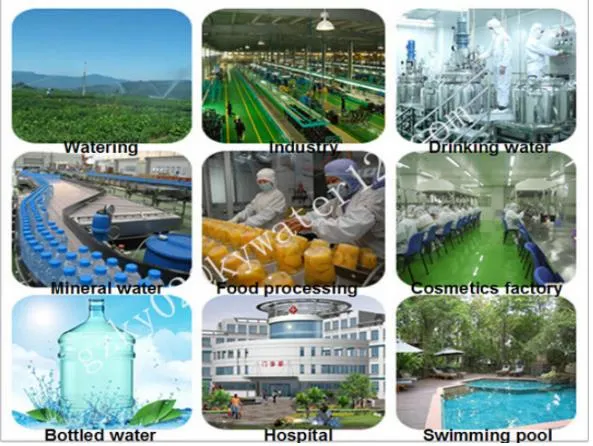 Advantage:
1.Can run and produce water continuously, highly automatic, auto membrane/filter flushing
2.No need chemical to regeneration,easy operation and maintainance
3.Pumps are from CNP, DOW ro membrane
4.Automatic switch on when lack of water,and switch off when no water or full of water.
5.RO membrane auto wash and reduce the pollution speed.
6.Low-pressure switch protects high-pressure pump from damage when water supply stops.
7.Production water condutivity meter monitors water quality online contionuosly.
8.Input water and dense water pressure meters, monitor the RO differential pressure and remind the time of washing.
9.PLC control screen panel, easy operation and control
10.Long life span:8-10 years
Consumbles details for this system: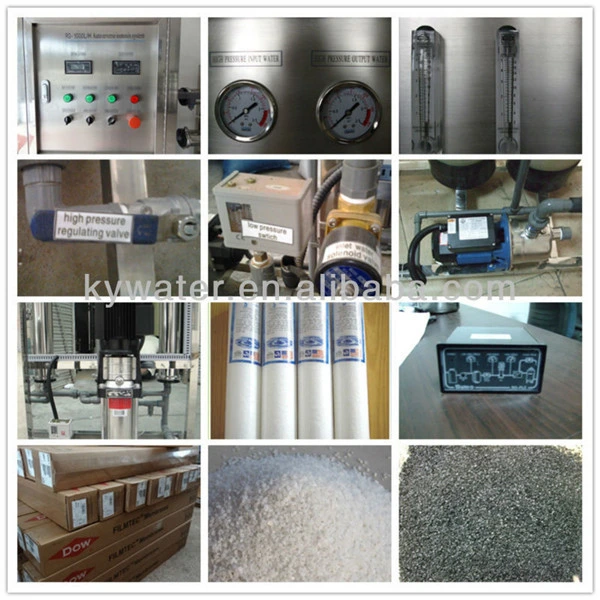 1.Quartz sand:should be replaced every about 15/24 month
2.Activated carbon:should be replaced every about 15/24 month
3.pp filter cartridge:should be replaced every 1 month
4.ro membranes:should be replaced every about 24 month
Other hot sale production brief introduction:
| | | | | |
| --- | --- | --- | --- | --- |
| Model No. | Capacity (M3/H) | Power (kw) | Recovery Rate (%) | Total land area LX W X H (mm) |
| RO-250 | 0.25 | 1.7 | 50 | 2500X1000X2800 |
| RO-500 | 0.5 | 1.5 | 50 | 2500X1000X2800 |
| RO-1000 | 1 | 2.5 | 50 | 3500X1200X2800 |
| RO-2000 | 2 | 3.5 | 50-60 | 6500X1500x2800 |
| RO-3000 | 3 | 4 | 55-65 | 7500X1500X2800 |
| RO-4000 | 4 | 7 | 55-65 | 7500X1500X2800 |
| RO-5000 | 5 | 8 | 60-70 | 10000X2500X3500 |
| RO-6000 | 6 | 9 | 60-70 | 10000X2500X3500 |
| RO-8000 | 8 | 13 | 60-70 | 10000X3500X3500 |
| RO-10000 | 10 | 20 | 60-70 | 10000X4000X3800 |
| RO-20000 | 20 | 30 | 70-75 | 15000X5000X5000 |
| RO-30000 | 30 | 40 | 70-75 | 20000X6000X5000 |
| RO-50000 | 50 | 50 | 70-75 | 30000X8000X5000 |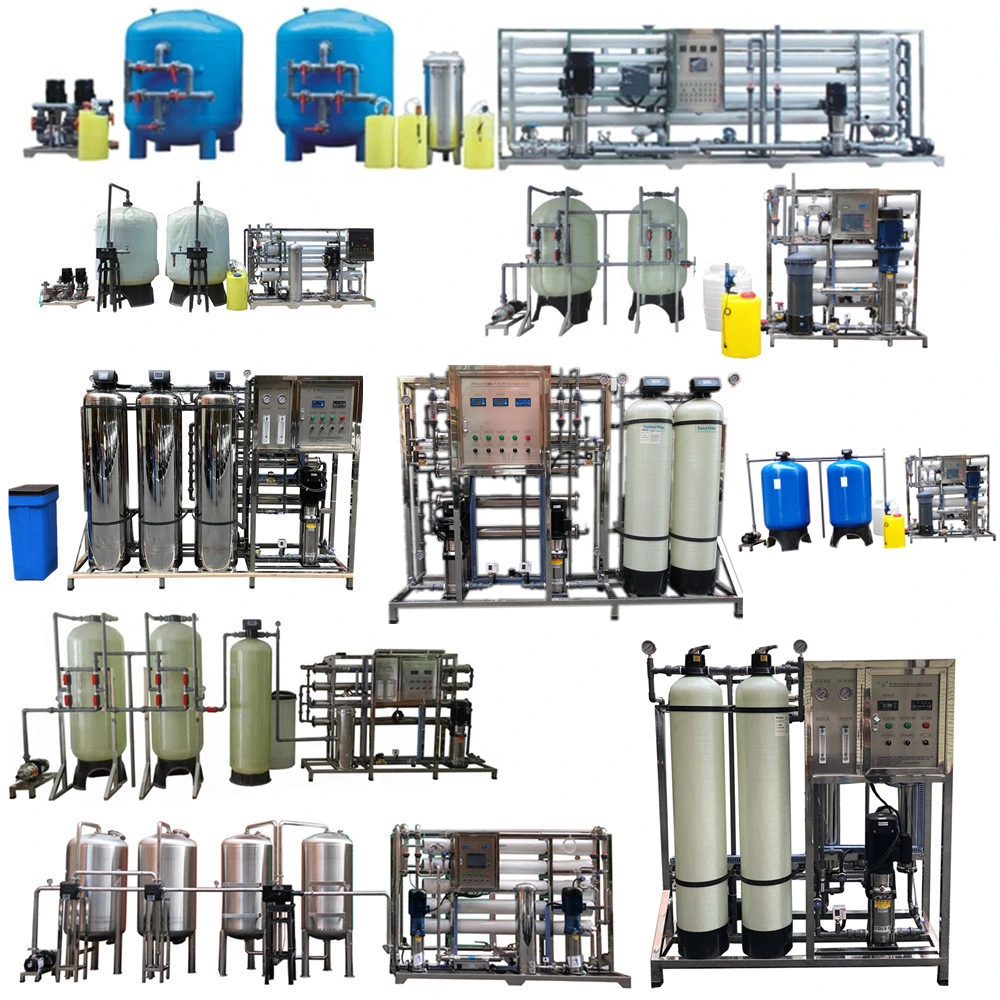 Why choose Kai Yuan Water Treatment?
1.We have the strict machine test for every machine before shipping, to ensure that every machine can operate smoothly.
Packaging & Shipping.
2.We have the most careful package for every machine with both film and wooden case to ensure every machine will be not destroyed during shipping. Besides, the good can be packed in wooden case,or can be custiomized with 20ft, 40ft container.

3.Our best after-services
One Year Warranty
Free spare parts for quality problem within one year.
Oline support
Payable installation
English Installation Instruction
4.Working in water treatment for more than 12 years, our company got many certificates for the high quality product and the mature technology for reverse osmosis,so we can help our customers to change the water they have now to the water they want.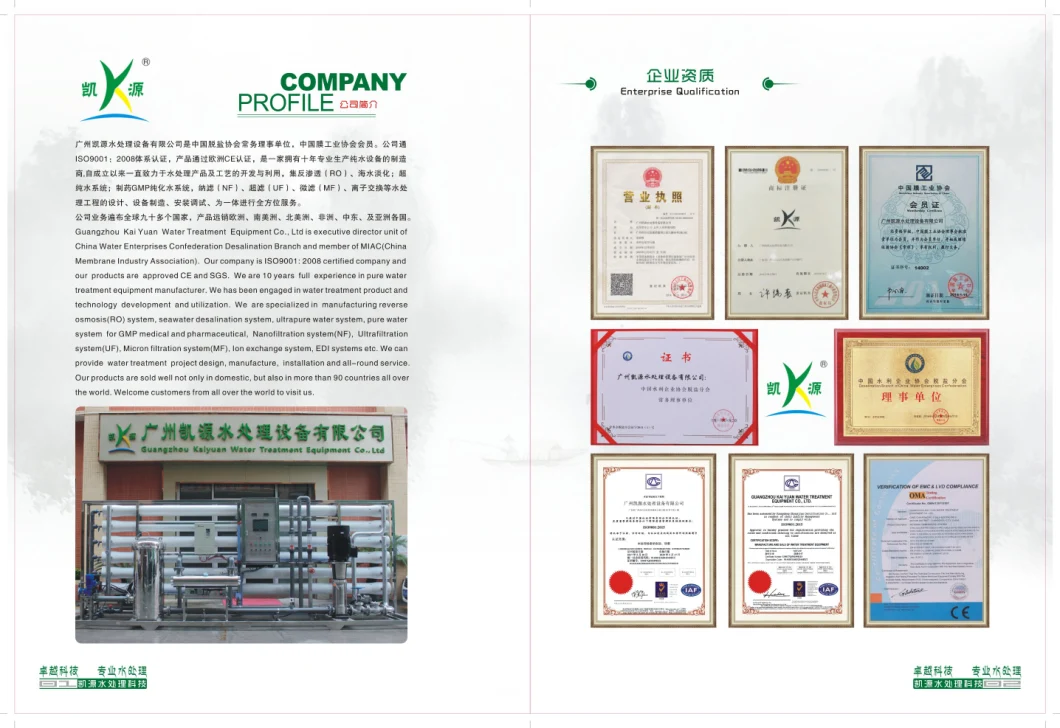 5.Kai Yuan Water Treatment Equipment Company have been working in reverse osmosis system for 12 years, with many experiences abroad.
1.Finished item 180tph ro plant for people drinking water in Saudi Arabia in 2018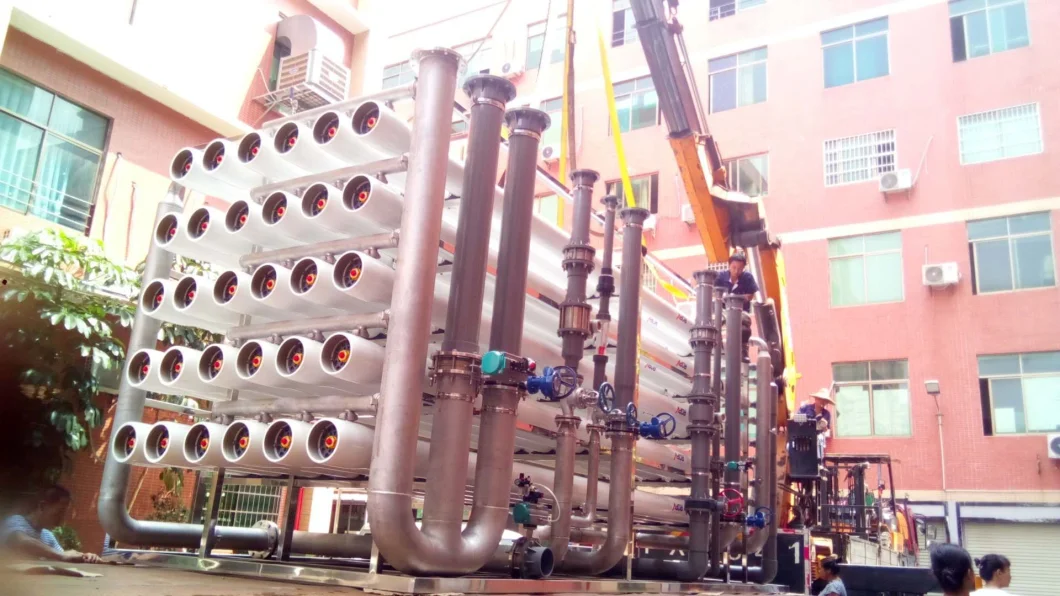 2.Finished item 50tph ro for industrial line water in Saudi Arabia in 2017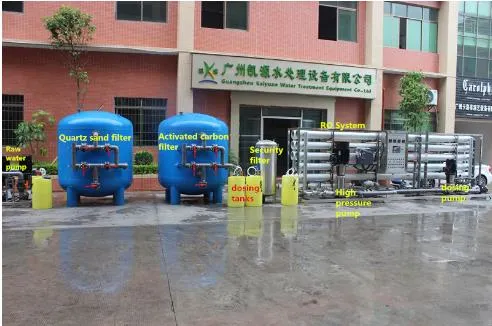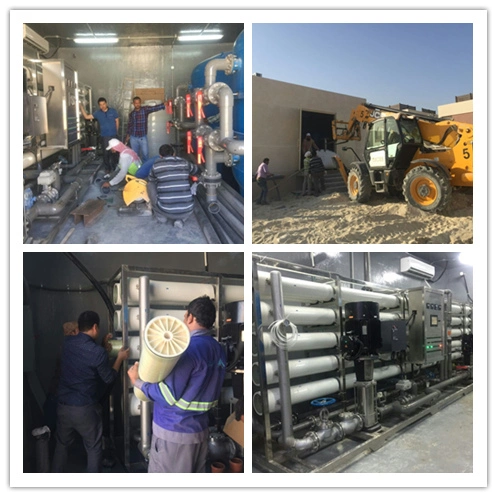 3.
.........
Our new workshop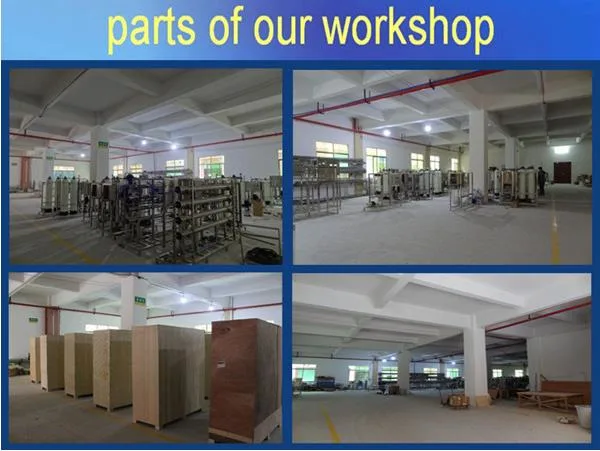 6.Serving so mang customers from all over the world and we treat every customers as our good friend, we will invite our customer to the factory for visiting.
Our factory is open to every one who wants to buy/know about water treatment plant.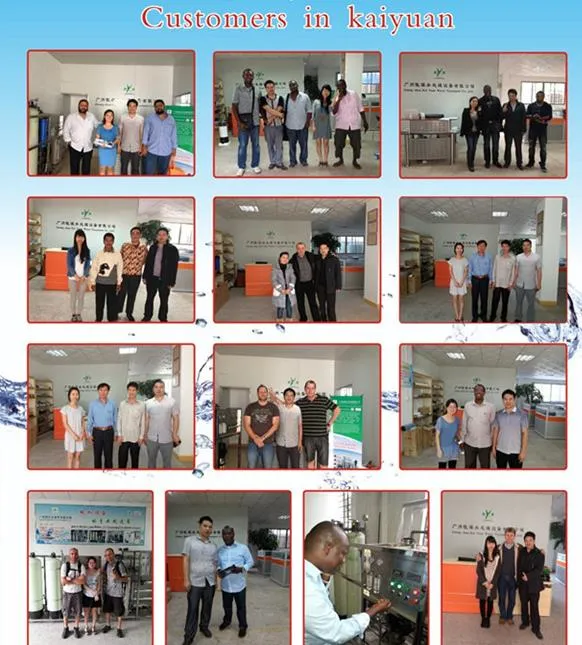 FAQ
Q: What is Reverse Osmosis?
A: Reverse osmosis (R/O) is a water treatment process in which water is forced through a semi-permeable membrane that has very small holes or "pores". Clean water passes through and impurities that are too big to pass through the membrane are left behind and flushed away.
Q: How Does Reverse Osmosis Work?
A: Reverse osmosis systems purify water by forcing pressurized water through a very fine, plastic membrane. If the raw water being treated comes from a well or another private source, disinfection and pre-filters (to remove chlorine and/or particulates/sediment) may be needed in advance of the R/O unit to remove contaminants that can foul or damage the membrane.
Q: How Do I Know What Size Unit to Buy?
A: R/O units are rated according to the amount of treated water produced per day. For example, one type of unit produces 5000 liters of treated water per day under its design conditions. In reality, conditions frequently vary. Line pressure is often lower, water will frequently be colder than 25° C and backpressure in the storage tank will likely reduce the performance of the unit. Consequently, you should examine water conditions and buy a larger rated unit than needed if any of the above problems are noted
Q: Material of reverse osmosis system?
A: You can choose FRP filter + U-PVC pipe, stainless steel filter + U-PVC pipe or total stainless steel.
Q: What is packing of this machine? Is it suitable for shipment?
A: Machine will be packed by standard wooden case. It is suitable for shipment. After you receive machine, you only need to open wooden case to pick up machine.
Q: Is this machine easy to install? Will you arrange engineer to help me install?
A: This machine is very easy for install. The machine you received is assembled. You will only need to put material inside to filters, and then backwash, fast rinse filters. It is very easy for you to follow our English instruction and video.
Q: How can I pay you?
A: After we confirmed order, I will send you contract sales with our company bank information. You can transfer money to our company bank account by T/T.
Guidlines for getting a proper quotation(offer):
1.Tell us the production capability you want(500L/H,1000L/H......)?
2.What is your source/feed water(tap water/underground water....)?
3.What is the product water used for(drinking /bottled water....)?
Contact Sherry Zhou to get more details, she will reply to you within 24 hours on working day(From Monday to Saturday)
phone:+8613660858153