potato starch milk dehydrator plant hydro cyclone starch slurry water filter fiber separator equipment
Zhengzhou jinghua starch hydro cyclone is used to each kind of starch and modified starch emulsion degreasing, fine slag separation, protein separation, washing and enrichment, etc. Continuous concentration and separation of food industry suspension, clarification, etc.
With compact structure, high precision, as well as good sealing effect, is widely used in potatoes, cassava, sweet potatoes, corn, wheat, valley (m) starch, andmodifiedstarch.

Main technical parameters
Model

XL325

XL438

XL516

XLS426

Plate quantity

1

1

1

2

Group capacity:
3-12t/h

Power:
7.5-45kw/stage
Total weight:
0.3t/stage

Cylinder diameter(mm)

362

438

516

426

Cylinder norm(mm)

10

,

15

10

,

15

10

,

15

10

,

15

Feed Pressure(MPa)

0.6-0.8

0.6-0.8

0.6-0.8

0.6-0.8

Inlet Size(mm)

76

89

89

2* 89

Underflow Size(mm)

48

48

57

76

Top flow Size(mm)

57

57

76

2- 57
Advantages of hydrocyclone separator
1. Fully stainless steel to be sure there is no corrosion.
2. Advanced surface treatment craft. Oil and dirty resisting.
3. Widely used for starch extraction in starch processing plants.
4. Multifunction of concentration, recovery, washing and separation for hydrocyclone group.
5. Cyclone pipes are made from material of reinforced nylon with high strength, deter abrasive resistance and excellent separation result.
6. Hydroclone designing is adopted to get better starch separation according to the features of different material.
7. Pipeline of hydrocyclone group passes computer optimization design. Compact and elegant.
8. Special sealing design, friendly operation.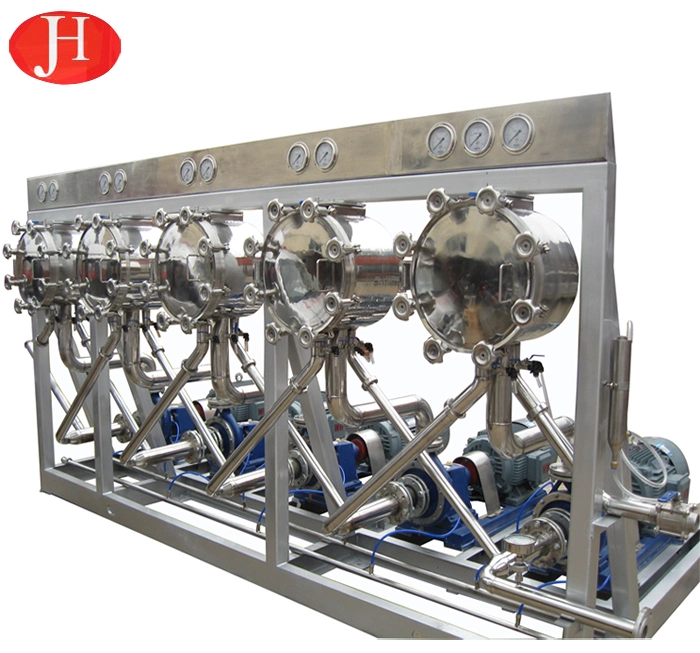 Working principle
Starch milk enters the middle cavity of the cylinder body through the starch pump from the feeding port of the cyclone. Starch paste enters the inlet of the cyclone tube and enters the inner part of the cyclone tube along the tangent direction of the cyclone tube. In the swirl tube, the material components rotate according to the spiral line and generate centrifugal force. And relative density of small proteins and water centrifugal force is small, the spiral motion, is reduced to about the lower part of the cone resistance by bottom LiuKou formed in the reverse direction of rotation of the spiral vortex uplink to LiuKou eduction, so as to achieve the purpose of each one.

Working principle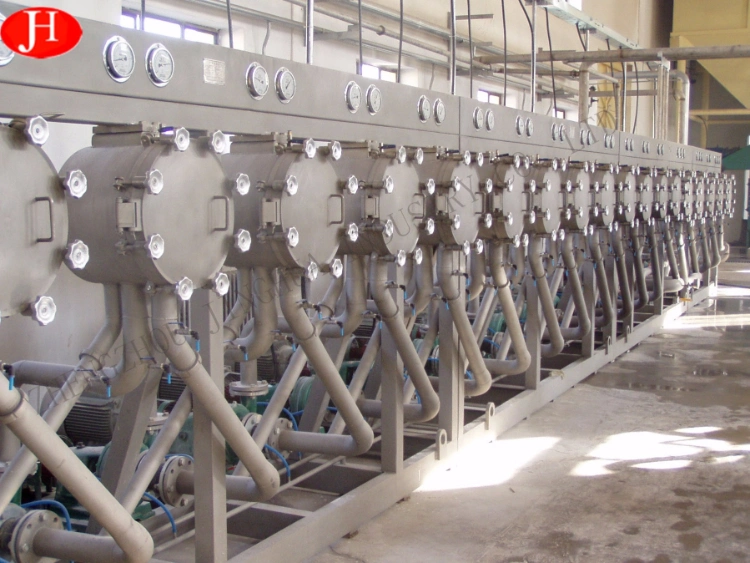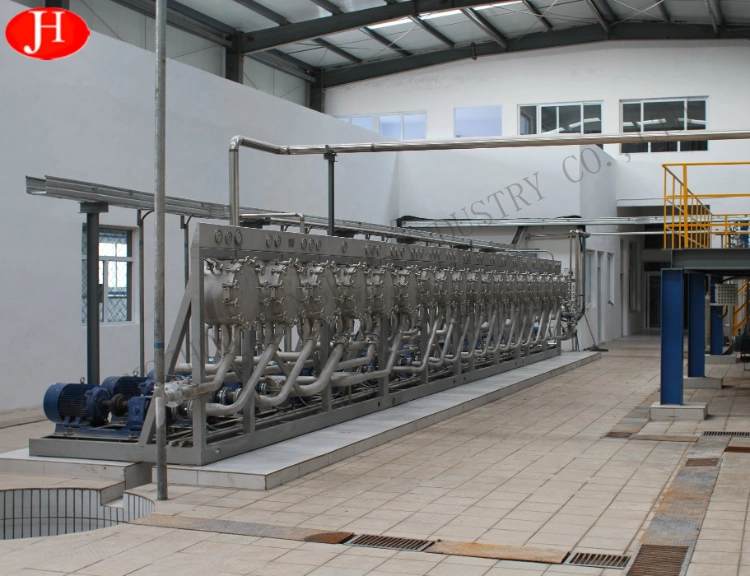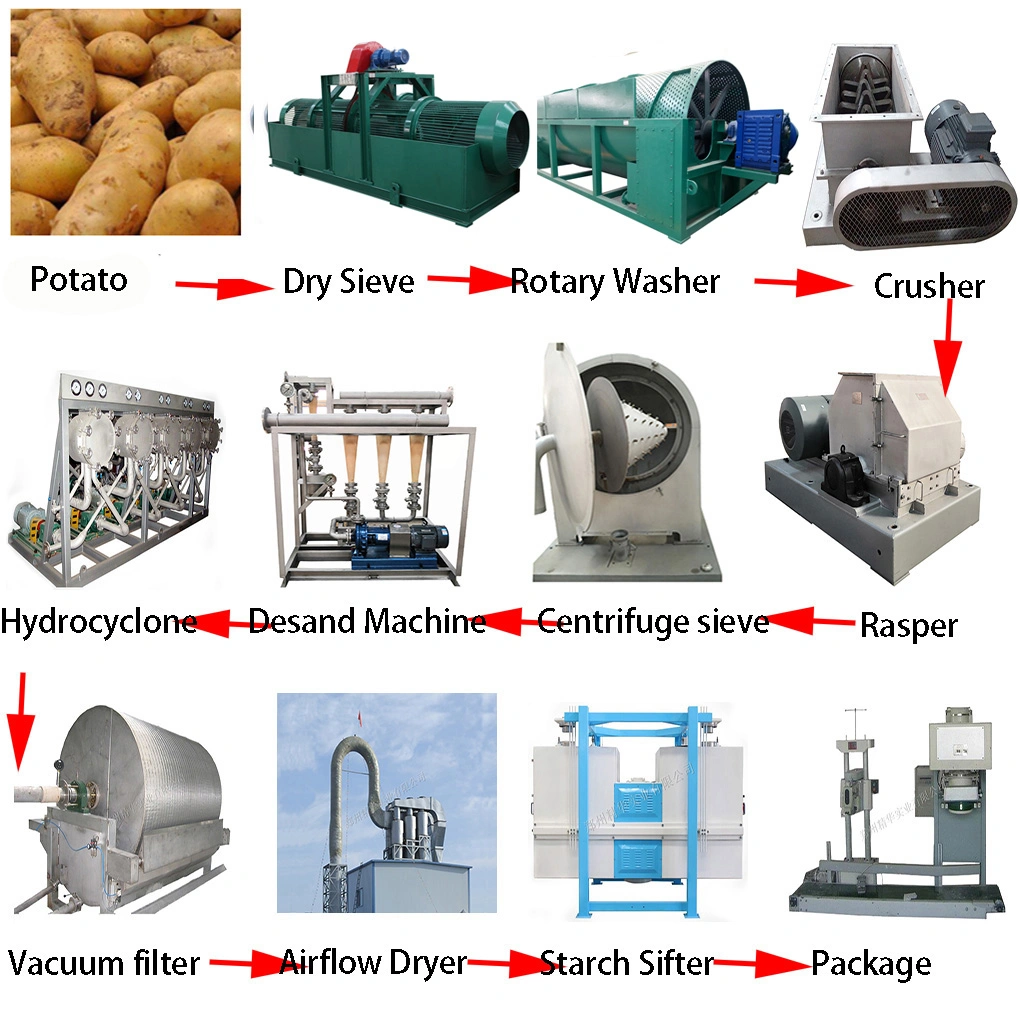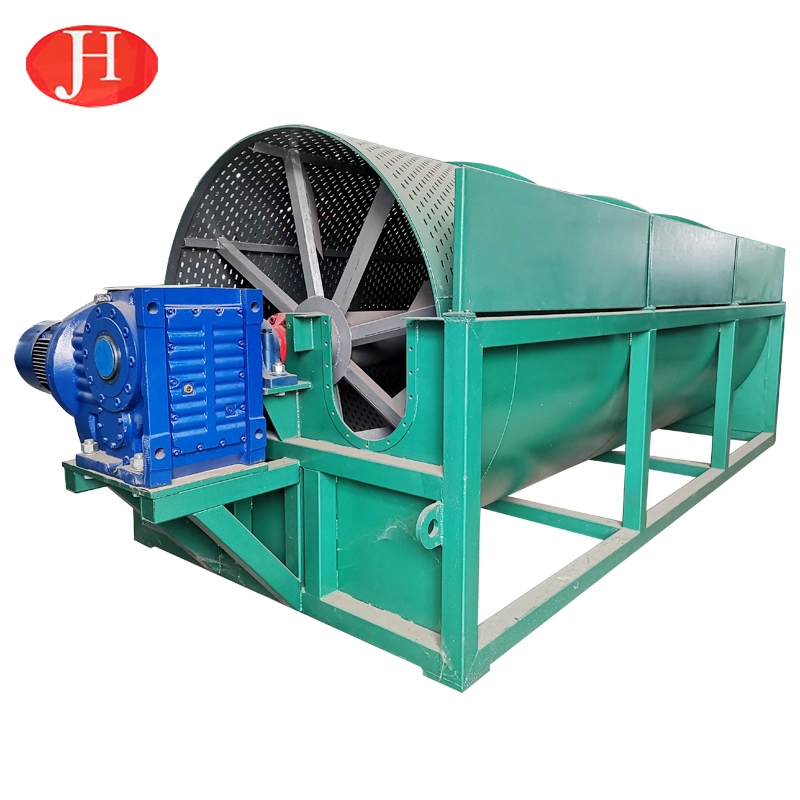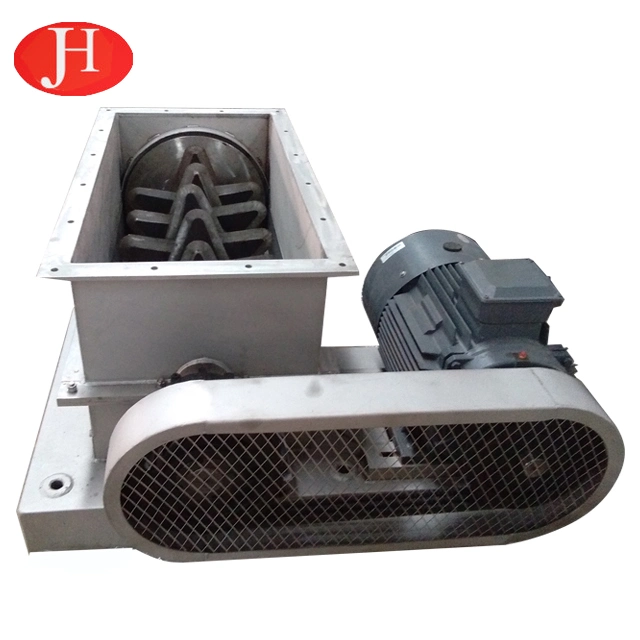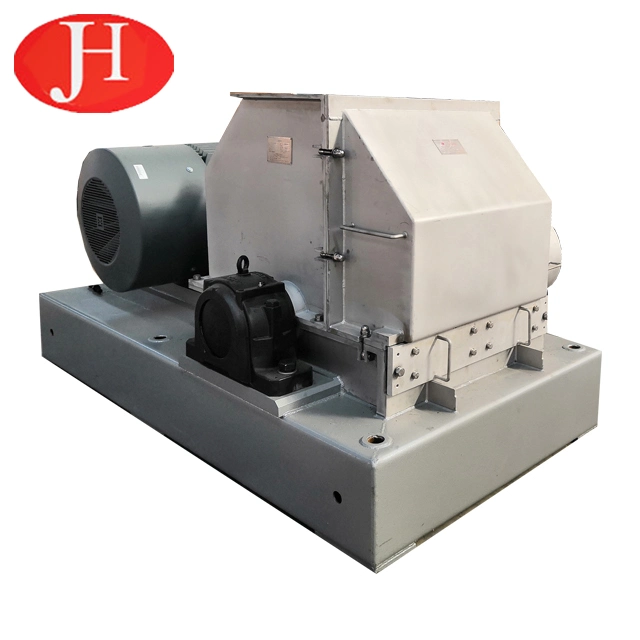 Pre-sale service
1.Introducing detail features and application of the products to customer.
2.Selecting economical and practical machines for customer.
3.Providing operation data of the related machine.
4.Providing means of trial performance for customer.
5.Flow chart and factory designing layout .

Sale service
1.Recommending engineering conditions required for installation of the machine.
2.Communicating the manufacturing progress of machines with customer in time.
3.Project planning and design services.

After-sale service
1.Training of equipment maintenance and operating personally.
2.Installation and commissioning of equipment until everything is functional.
3.One year warranty and providing long-term maintenance service and spare parts.
4.Giving technical support to customer for developing new product.
5.Engineers available to serve machinery overseas.
Packing & Shipping: Customize the wooden case according to the size of the product.
Delivery: 14 days after receiving pre-payment (on time according to contract strictly).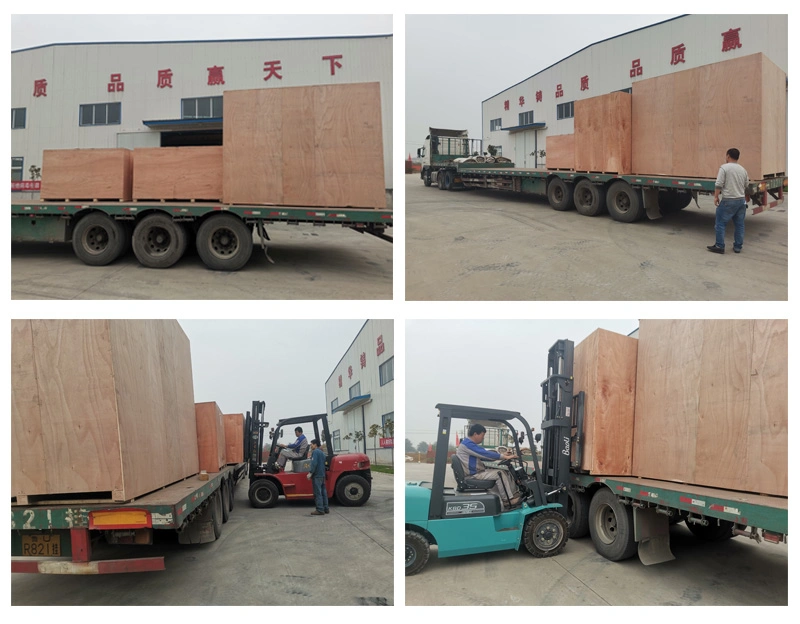 Zhengzhou Jinghua company is an engineering and technical company specializing in starch engineering design, equipment manufacturing, engineering installation and debugging, technical personnel training and other work. Has two modern large factory,Can ensure the processing and delivery cycle,engineering and technical personnel more than 30 people, can provide installation services overseas and custom product for you.Our company has undertaken national and provincial scientific research projects.,with more than 30 invention patents, various honor certificate more than 20.Can provide high quality products for you.The chairman of the board is professor wang yanbo, who is mainly engaged in theoretical research on the transformation and utilization of grain resources, teaching, scientific research and engineering design of starch and its deep processing direction, and research and development of modern equipment. He has published 7 scientific works, 6 national standards and 30 academic papers.
Our Workshop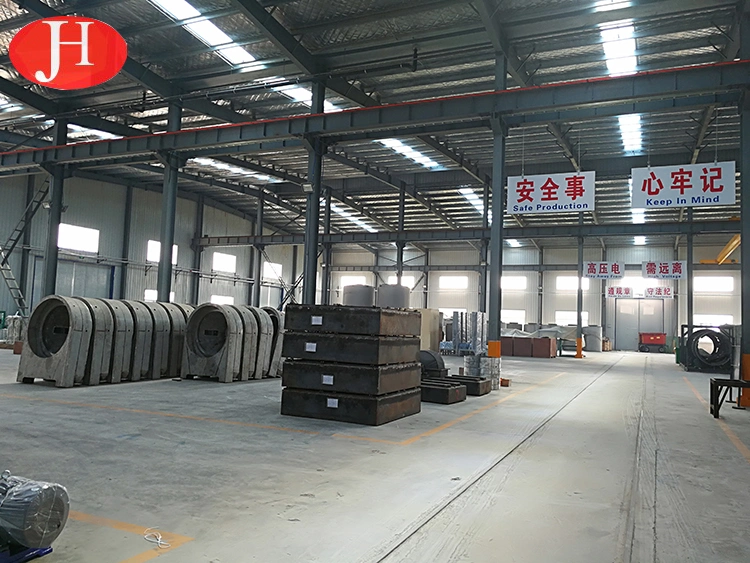 Our Workshop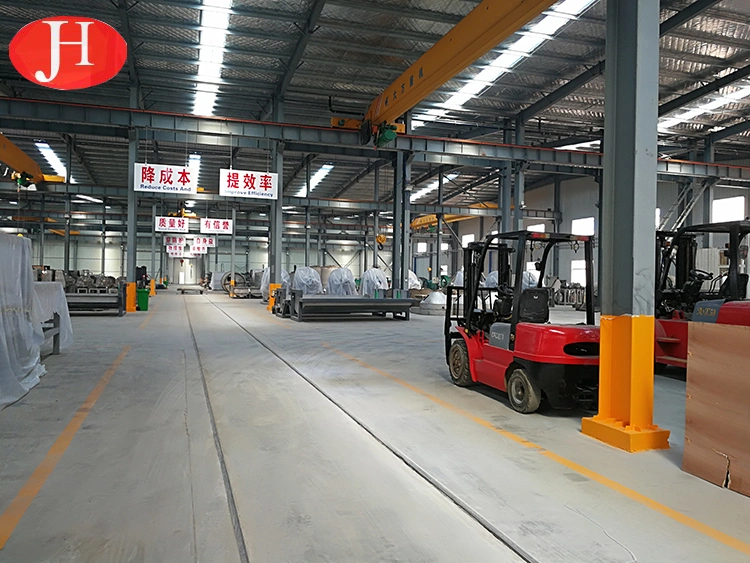 Awarded the title of Advanced & High Technology Enterprise by Henan Science & Technology Department. Jinghua is the Vice president member of Sweet Potato Starch Professional Committee of China Starch Industry Association Units, the member of Potato Starch Professional Committee and the vice president member of China Food and Packaging Machinery Industry Association and Potato Food Processing Machinery Professional Committee Unit. Awarded the "ten years brilliant" honorary certificate issued by China international potato fair.

Our Certificate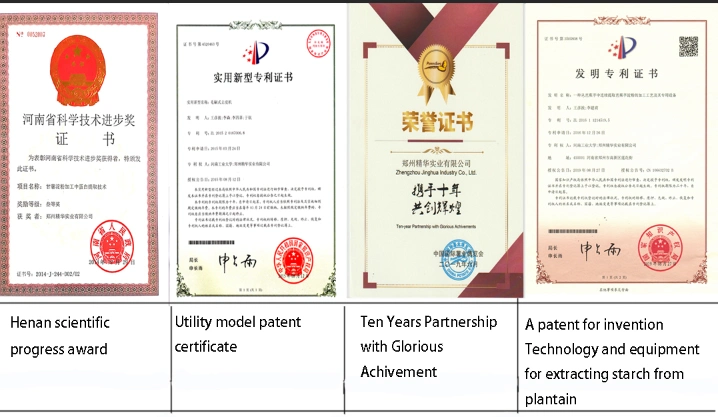 On the afternoon of June 6th, One Belt And One Road Cambodian delegation came to visit zhengzhou jinghua industrial co., LTD. Professor wang yanbo, chairman of zhengzhou jinghua company and other relevant personnel introduced to the delegation the achievements made by jinghua company over the years, the production technology of products and the production process of starch. The delegation visited the company's office building, production workshop and finished product warehouse, showing the delegation the company's production and research capabilities.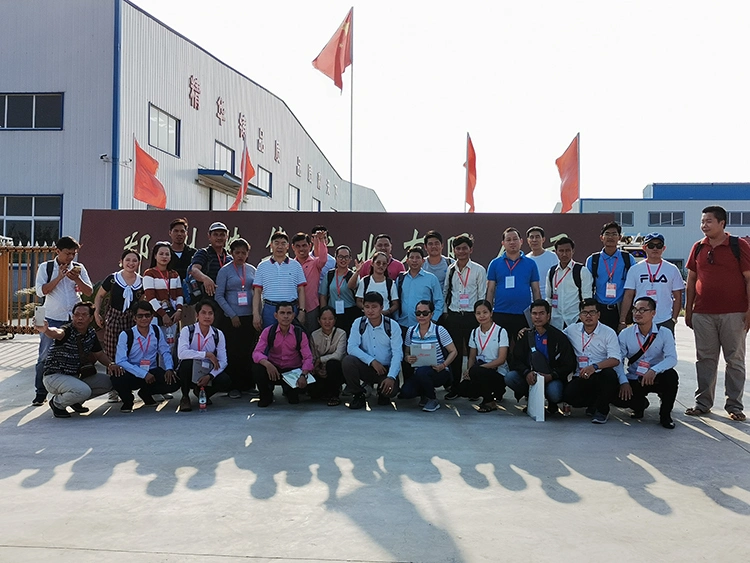 Q1: Is your company a factory or trading company?
A: Our company is a factory in Henan Province ,with export license and we have done export business over 20 years professionally.

Q2.What is your main business?
A: Zhengzhou Jinghua is devoted to starch processing machine. The machine of starch processing line , such as : cassava starch line , cassava flour line , potato starch line , sweet potato line , wheat starch ,sago line and garri line

Q3. Can you customize the products according to our requirements?
A: Yes, we have a professional technical department that can customize the products according to your requirements

Q4: Are your products can be assured ?
A: Our machines are all passed ISO9001:2001 and have CE certificate by SGS, TUV.

Q5: If we show you our layout of factory, can you help us to design the whole process line?
A : Yes, our experienced engineers and technical employees can help you to arrange the layout and installation of whole process line based on your real situation;

Q6: If we have samples of new products, can you help us to analysis and design the machine?
A: Yes, Our technical department can help you to analysis, design and test the new products you offered.

Zhengzhou Jinghua Industry Co.,Ltd.
Add:Guanggu Road, Xingyang City,Henan Province,China